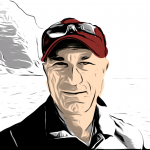 One Saturday in August nearly 25 years ago, I was playing golf with my friend, John Gregorits, at Flanders Valley GC in Morris County, NJ.  John was a fine golfer, who usually beat me like a drum, even when I played well.  But that day, although he got ahead by two holes after we'd played only three holes, I played steady, if unspectacular golf, and he didn't play well at all.  I cleaned his clock, shooting 87 to his 93 – and he'd given me two strokes a side.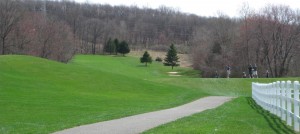 It was the worst I had ever seen John score; but he just kept plugging away.  When he hit it in the woods, he just went after it and whacked it back out.  He never complained.  John kept plugging along, in spite of whatever frustration he may have been feeling.  He just kept after it, and was good company in spite of what, for him, was awful golf. (He usually scored 80 or lower.)
After the round John told me, "I could try to shoot low scores every time I play.  But sometimes, like today, I want to hit certain kinds of good shots.  I want to shape tees shots with the curve of the fairway, fade or draw approach shots to the green around rather than over bunkers, and get really creative on little pitch and chip shots. If the shots workout as planned, that's great.   If not, no big deal.  I'm out here to have fun, and today, fun for me is more about 'good shots' than 'low score.'"
OK, so what did I learn?  Maybe I had been fooling myself about golf.  I had been thinking that it was all about results, and "who I am" was measured by accomplishments, like golf scores.  As if I were a more worthwhile human being if I could say, " I am a six handicap" instead of " I play to a twelve handicap."
That day I started learning that it's not what score I write that's the measure of what kind of person I am.  It's not that at all.  It's whether I enjoy the Game of Golf [whichever Game of Golf I happen to be playing that day], and my playing partners; the beauty of the golf course; the thrill of good shots and the challenge of recovery from bad shots.
I began to realize that maybe the same is true for the Game of Life.  Every time I play golf, I have a choice.  I can choose to feel good about the game, and myself, or I can choose to feel lousy.  Every day I wake up and I have a choice.  I can choose to feel good about life, and myself, or I can choose to feel lousy.  Why choose to feel lousy?