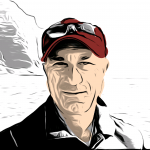 I was trying to understand the popularity of websites like Yelp.com and Digg.com. These sites rely on the so-called Wisdom of Crowds to identify the best places to eat, shop, etc. [Yelp] and to determine what news is REALLY news [Digg].  Apparently,  when we somehow aggregate the knowledge and information of a large number of people, we come up with better decisions than we would if left to our own devices. There is lots of criticism of this idea, and I'm not sure whether this really works, other than in highly controlled circumstances, but to me, it's not really wisdom.
If you're like me, you think you know what wisdom is, but you're hard pressed to define it.  That puts us in good company.  The University of Chicago has  launched a $2 million research effort,The Defining Wisdom Project, to get a better handle on exactly what "wisdom" happens to be. I'm not sure I'd be willing to spend $2 million, but I applaud their efforts.
Look up the word "w-i-s-d-o-m" in the dictionary. Merriam-Webster offers several definitions, all of which seem to involve a combination of knowledge and insight, resulting in good judgment.   That feels right intuitively.  We think of wise people as those who know what to do when something difficult has to be done. We seek them out for advice because they've demonstrated that they know how things work, and how to get things done with minimum fuss and bother.
The ancient Greeks considered wisdom to be a virtue.  Socrates and Plato literally created philosophy [philo-sophia] as the Love of Wisdom.  Plato's utopian philosopher kings would not only understand the right things to do — The Form of the Good — but would have the strength of character to do what what was right.  To Aristotle, wisdom was more than knowing that things worked in a certain way, but called for the deeper knowledge of why things were the way they were. In the Christian tradition, Thomas Aquinas called wisdom the "father" of all virtues.
The Inuits saw wisdom as the aim of all teaching. An Inuit elder supposedly said that people were wise when they could see what needed to be done and do it without being told.  That's a sort of practical wisdom that the world could certainly use a lot more of.
Never willing to leave matters of the mind in the hands of philosophers, psychologists entered the debate about what wisdom really is.  I particularly enjoy the definition of wisdom found at Psychology Today Basics:
"Like art and pornography, wisdom is hard to pin down, but people generally recognize it when they encounter it. Psychologists pretty much agree it involves an integration of knowledge, experience, and deep understanding that incorporates tolerance for the uncertainties of life as well as its ups and downs. There's an awareness of how things play out over time, and it confers a sense of balance."
I agree with most of that description, but have to take issue with the notion that we-know-it-when-we-see-it when it comes to wisdom.  I think we overlook the wisdom that can be found everywhere, both within us and in the world in general, because we simply don't bother to look for it.  Worse, we may not know how to look for it.
To further complicate matters, at least some wisdom, [not the wisdom that Plato is so enamored with, based on innate and universal ethical principles], in the area of practical affairs, seems to be highly context sensitive.  For example, the purchase of Alaska in 1867 for $7.2 million was denounced at the time as "Seward's Folly." The discovery of gold in the 1890's changed everyone's view, and the storehouse of natural resources found in our 49th state makes Seward look like a particularly sagacious Secretary of State. Of course, Seward didn't know about the gold, the oil, or much else about Alaska at the time of the purchase, so perhaps he was just a lucky fool with a great sense of timing.
As for me, while I'm not ready to go as far as author  Douglas McKee in his latest book, Already Wise: Our Inborn Ability to Make the Best Choices, and say that we  simply have to learn to unlock the nascent wisdom inside each of  us, I am on the lookout for wisdom, wherever I may happen to find it.
For today, I'll leave the last word to Bard Will Shakespeare, who wrote in As You Like It [Act V, Scene 1 for those who care to look it up]:
"The fool doth think he is wise, but the wise man knows himself to be a fool."