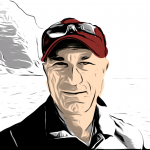 In my previous post, "Fathers and Sons – Part One," I wrote about PGA professional Russ Cochran and his son, Ryan.  They weren't the only father/son player/caddie duo that I followed during the 2012 Toshiba Classic.  On Sunday, March 18th, the final day of the tournament, I was the walking scorer for the trio of Gary Hallberg, Michael Allen, and Stan Utley.  Entering the final round, the golfers were in the middle of the pack.  Allen was 2-under par, tied for 25th and six shots behind the leader; Hallberg and Utley were at 1-under par and tied for 32nd.  When they stepped onto the first tee at 10:04 a.m, all three started the round with hopes for a strong finish and a nice check.
When the golfers, their caddies and the three volunteer scorers/standard bearers were introducing ourselves to each other, Stan Utley's very young-looking caddie turned out to be his 14-year old son, Jake.  Gary Hallberg's caddie asked Jake if he regularly carried for his dad, and Jake replied, "I've been on his bag for every Champions Tour event he has played."  I was a bit surprised at that, until I learned that the 2012 Toshiba Classic was Stan Utley's very first event on the Champions Tour.  [Utley, failed to earn a Champions card at Q-school last fall and got into the Toshiba Classic via Monday qualifying.]
Stan is widely recognized as one of the game's best short-game instructors. Even though he won the PGA Tour's Chattanooga Classic in 1989 and three times on the Nationwide Tour, he is much better known as a short-game instructor for other pros, including well-known stars like Jay Haas and Peter Jacobsen.
As the golfers teed off, the volunteers walking with the group noticed that Utley's swing appeared to be very short and restricted, almost as if the act of swinging a golf club was painful to him.  We later learned that Stan had been surprised by back spasms on the first green on Friday, and further back pain after he completed his first round.
Although being outdriven by 35-40 yards or more by Michael Allen and Gary Hallberg that day, Stan "bunted" his ball around the course very effectively.  Despite hitting more than a few shots that were downright ugly – the kinds of shots I am used to seeing coming off the club face of my own clubs, not those of a tour professional — Stan utilized his splendid short game to make three birdies on the front nine.  Sitting at 4-under par with nine holes to play, Utley had moved into the top ten for the event.
Meanwhile, things didn't go so well for his longer hitting fellow competitors.  A bogey on #2 and a ball in the water on the short, par-three 4th hole effectively took Michael Allen out of the hunt.  Gary Hallberg's hopes were dashed by a 5-putt on the ridiculously difficult 7th green.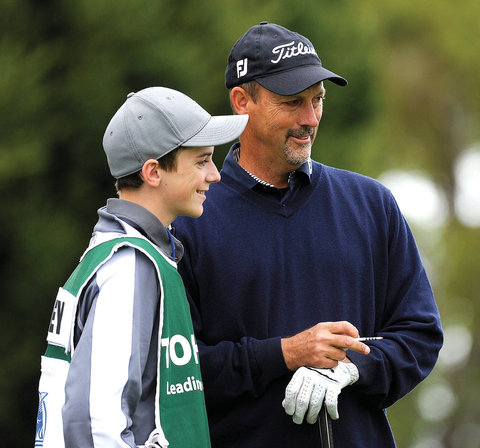 The back nine wasn't as friendly to Utley, though he snagged two more birdies against three bogeys to finish the day with a 2-under par 69, 3-under for the tournament. Afterwards, Stan told an interviewer, "I came here with no expectations, and it's been a fun week." His check for finishing tied for 12th was $31,750.  Jake's caddie earnings, at current rates for PGA Tour caddies, would have been between $2,000 and $2,500.  Not a bad week for a 14-year old.  But I'll bet that the real reward, for both Jake and his father, was the opportunity to work together at a game they both love.