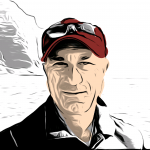 For the past eight years I have worked as a volunteer Walking Scorer at the PGA Champions Tour Toshiba Classic at Newport Beach Country Club.  It has given me the opportunity to meet, talk with and observe at close hand over fifty Champions Tour golfers, including major championship winners such as Gary Player, Lee Trevino, Wayne Grady and Fuzzy Zoeller, as they ply their trade.  This year, during the Pro-Am, I was on the course as Walking Scorer with Russ Cochran.  Russ has the distinction of being one of only eight  left-handed players to win on the PGA Tour, and he is currently the only left-handed player on the Champions Tour.  His biggest win as a professional is probably his victory in the Senior British Open Championship in 2011 at Walton Heath Golf Club in Surrey, UK.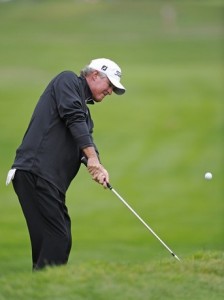 I first met Russ nearly twenty years earlier, when I played in the Pro-Am at the 1993 Buick Classic [now known as The Barclays] at Westchester Country Club in Rye, NY.  I remember almost nothing about the golf that day, but I still recall what good company Russ was on the golf course for his amateur team, and how the five of us talked about how we all wished we could more easily take time away form our jobs to be with our children as they played  baseball, field hockey and other sports, and otherwise went about the business of growing up.  That day with Russ was memorable because he was simply "one of the guys" having a pleasant day on the golf course.
So, I was pleased to be scoring for Russ and his amateur team that morning.  As we all introduced ourselves to each other, we learned that Russ's oldest son, Ryan, was caddying for his father.  Ryan, an excellent golfer in his own right, played college golf at the University of Florida, and would like to follow in his father's footsteps and play professional golf.  As the morning wore on and we made our way around the golf course, one of the amateurs asked Russ how he enjoyed having his son working as his caddie.  Russ indicated that it was a perfect situation for him; Ryan handled all of the travel and logistics arrangements, in addition to manning his bag, so all Russ had to do was play his best golf.
Later, when I asked Russ how it felt to win the British Senior Open Championship last year at Walton Heath, he proceeded to relate this great story.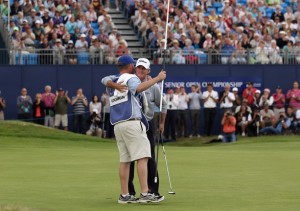 Russ told us how Ryan had been his regular caddie since he started playing on the Champions Tour three years ago.  Because Russ enjoyed great success on the Champions Tour — he was Rookie of the Year in 2009, and won two consecutive events in 2010 — both he and Ryan did well financially.  Before they headed to England for the 2011 Senior Open, Ryan suggested to his younger brother, Reed, who had recently graduated from law school, that Reed take a turn as their father's caddie.  If Russ continued his strong play, Reed would get a nice payday for his work.  We already know how this story turned out for Russ and Reed.  [That's Russ and Reed in the picture on the left, hugging after Russ holed his putt to clinch the victory.]  But things worked out well for Ryan, too.  He wound up caddying that week for Mike Goodes, who finished tied for seventh.  At the trophy presentation ceremony, Russ said:
"It feels great, I had my son (Reed) on the bag, I told him I was going to work hard and come away with something good and I think he was the lucky charm."
But when he told us the whole story, you could tell that Russ was equally proud of both of his sons.