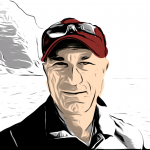 Let me make this clear right up front.  I'm not a music critic, and certainly not a jazz critic.  I like some jazz music, but I'm not a raving fan.  Nonetheless, when my good friend, Doc Gruver, invited my wife Debbie and me to join him and his wife Linda at the Sunset Jazz at Newport concert, we agreed.  Doc, a real jazz lover, was very excited about the opportunity to hear Jeff Hamilton and John Clayton playing live in concert. Besides, we owed Doc some payback for having dragged him to a U2 concert at Angels Stadium in June.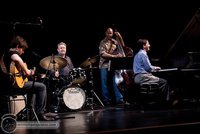 So, this past Wednesday evening we headed to the Marriott at Fashion Island in Newport Beach, California for the concert, not knowing exactly what to expect.  What we got was a wonderful evening, sharing a few hours with the Graham Dechter Quartet – Graham Dechter on guitar, Jeff Hamilton on drums, John Clayton on bass and Tamir Hendelman on piano. I'd never heard of any of them, other than Doc's reference to Jeff Hamilton as a fabulous drummer in the Gene Krupa/Buddy Rich class, and John Clayton as a great bassist and long-time friend of Hamilton's.
Hamilton, Clayton and Handelman are long-established jazz stars.  They have played all over the world for decades.  Graham Dechter is a relatively new arrival on the jazz scene, a 23-year old guitarist with amazing musical chops.  He's from a family of musicians, and grew up in the music world, learning from some of the finest jazz musicians around. His first album, "Right on Time," is terrific.  [We learned that evening that Graham and the rest of the group are going to the recording studio next week to cut a new album, to be titled "Takin' It There."]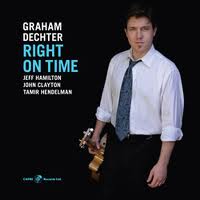 I had the chance to talk with Dechter between sets, and he seems to be a gracious and unassuming young man.  His smile beamed when I told him his playing reminded me of Wes Montgomery, who was one of the first jazz musicians I became familiar with during my college years.  [During the second set, Dechter paid a tribute to Montgomery and noted that he considered Wes Montgomery to be one of his musical mentors.]  And when I asked Dechter what it felt like to be playing with acknowledged greats like Jeff Hamilton and John Clayton, he said it was like a dream coming true every day.
For me, though, it was a chance to watch a spectacular display of teamwork in action.  Despite his relative youth and the generational differences of the members of the group [Hamilton and Clayton are Baby Boomers, Handelman is a Gen X-er and Dechter is a member of Generation Y], Dechter was clearly the leader of the group.  He did the introductions, told the cute little stories between songs, and truly shone during his solo efforts.  In fact, all of the musicians performed brilliantly during their featured solos. But great jazz is not simply great individual performances.  Within the framework of the music's arrangement, jazz performers have to be able to provide the soft and subtle backup lines that propel the soloist to greater heights, collaborating to elevate the overall performance to an almost transcendent level. Each musician has to be able to lead when required, and follow or support when it's his time to play in the background.  Watching the live performance, I could see the four of them playing off of each other, giving and following musical, visual and verbal cues; working together to combine their individual talents into something greater than the sum of the parts. It was a thrill to see it, hear it and be a part of it. Great teamwork. Great jazz.
Perhaps there's a lesson or two here for anyone hoping to be a team player, be it in music, in sport, in business, maybe even in government.