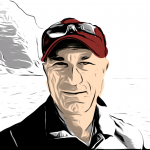 Except for those unfortunate few of us who, like moths attracted to a flame, find themselves drawn toward every new piece of reporting on the scandals at Penn State and Syracuse, most of us are sick and tired of hearing about so-called "coaches" who took advantage of their titles and positions to abuse young boys.  I have no intention of adding to that miasma.  I do, however, feel drawn to write about coaches, both good coaches and bad coaches.
I see the job of a coach as helping people develop the skills they need to be successful.  It doesn't matter whether we are talking about coaching one person or coaching a team. Nor does it matter whether we are talking about coaches of sports teams or coaches in a business setting.  A coach is a coach is a coach.
What does a good coach do?  A good coach pumps you up.  A good coach tells you you are special. A good coach shares information, and a good coach accents positives.
Contrast that to a bad coach.  A bad coach brings you down.   A bad coach tells you you are a failure.  A bad coach withholds information, and a bad coach focuses on "wrongs."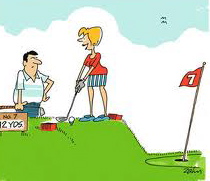 I have had some very good coaches and some very bad coaches.  I have been a good coach, and at times I have been a very bad coach.  My wife can attest that I am, for her at least, a horrible coach when it comes to her golf game – since I can't seem to stop myself from pointing out all of the things that are wrong about the way she tries to play golf.
What I remember about my best coaches was that, while they were always pushing me to be "better" [and this is very important – we worked on getting better, not becoming perfect], they always helped me feel good about what I was doing, what I was learning, and how I was making progress.  I felt that they truly cared about me as a person, and about helping me achieve what I was capable of achieving if I made a commitment and put in the effort to live up to that commitment.
The essence of good coaching seems to be the ability to surrender something of your sense of self, at least temporarily, and focus entirely on the needs of the person being coached, rather than on what you are trying to get for yourself out of the experience of coaching.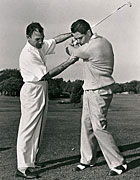 I often think about how Ronnie, my very best golf coach, used to work with me to improve my game.  Ronnie never simply modeled a good golf swing and said, "Do it like that." He worked hard to understand what kind of learner I was.  It turns out I was a combination of a third-party visual and a kinesthetic learner.  I had to be able to picture myself performing the physical action as if through a movie camera – rather than through my own eyes [third-party visual]; but I also had to have a strong sense of what things were supposed to feel like in a good golf swing [kinesthetic].
Analytic descriptions didn't help me at all.   But visual imagery and ideas about "feels" were powerful aids to helping me learn what a good golf swing would feel like to me. What seemed to help the most was that when Ronnie saw something he didn't like in my swing, he didn't try to "correct" me, he asked me what that swing felt like.  Ronnie helped me internalize the learning and make it personal and meaningful to me.  Swinging with "spaghetti arms" and "aiming my thumbs at my ears" were ideas that, under Ronnie's watchful eye, helped me lower my handicap from 17 to 9 in under two years.
All of us have good coach and bad coach stories.  I'd like to hear some of yours.